Are you a Vijaya bank user and want to use your banking services over the internet? Well, if yes then this article is for you because in this article we're going to discuss How to activate Vijaya Bank Net Banking on your mobile. Vijaya Bank was amalgamated with the Bank Of Baroda and after that, all the services of Vijaya banks were operated by BOB. BOB is one of the most reputed banks of India which provides premium quality services to its customers.
The activation process of internet banking in Vijaya bank is not very complex. You can easily do this work on your mobile. So, if you want to know how you can Activate Vijaya bank net banking then just stick to this article but before it, we're gonna discuss the benefits of internet banking in Vijaya bank.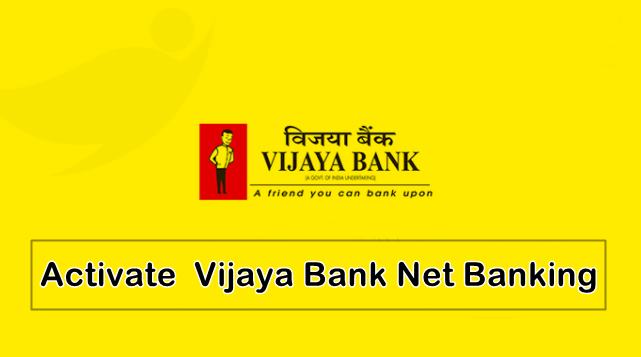 Benefits of Vijaya Internet Banking
The greatest benefit of Vijaya Bank internet banking is that you can easily operate your bank account through a mobile application. Well, in respect of this all the benefits of. Internet banking are listed below:-
With the use of internet banking of Vijaya bank, you can easily transfer funds from one account to another account. This will end the role of the bank/agent which transfers you before it.
You can also donate easily to NGOs directly through your phone with the help of Vijaya bank internet banking.
You can also check your current and previous banking transactions with the help of internet banking.
Vijaya bank is also useful for bill payments and if you take any insurance policy then you can directly check the status of your insurance policy and can pay easily.
You can use internet banking online shopping and E-ticket booking.
Internet banking is also useful for online trading.
You can also reapply for your lost or stolen Debit card and can issue a duplicate password directly without visiting the bank.
So, these are some benefits of Vijaya bank of India Netbanking. Net banking is very useful for making your banking more secure and reliable. You can easily open access to the services of Internet banking in Vijaya bank of India by using their application. So, let's discuss how you can open your Vijaya Bank of India Internet banking services.
Also Read: How To Register or Activate TMB Netbanking?
How to Activate Vijaya Bank Net Banking Online?
It is a very easy process to register Vijaya Bank Internet Banking. Just follow the basic steps given below to activate Vijaya NetBanking services.
First of all, visit the official Vijaya Bank NetBanking registration page by following this link: https://www.vijayabankonline.in/NASApp/index.html
Now, on the next page, click on the retail banking option.
After that, find and click on the "New user/Register here" option from there.
On the next page, fill in all the required details in the form such as mobile no. , debit card number, etc.
Once you fill all the details, request for OTP on your registered mobile number.
Now, verify your mobile number via OTP and proceed to the further process.
Set your login/transaction password from the next page.
That's all. You've now registered for the Vijaya Bank NetBanking.
Login Procedure of Internet banking in Vijaya Bank for Mobile Users
Vijaya bank introduced a dedicated application which is called VMOBILE. With the help of this application, you can easily log in to your Vijaya bank account and avail all the services of Vijaya bank internet banking. So, follow the steps to know how you can log in the first time into the official application of Vijaya bank.
Firstly, download the official application VMOBILE on your mobile device. This application is available on Google or in your preferred App stores. So, download and install it and tap to open the application.
Once you open the application then it'll ask you the option of "The first-time Login". Tap on it and proceed to next.
Once you complete the above option then a new page will open which asks you to fill your inputs in it like Banking details. So, provide the following inputs and tap to proceed.
A message will be sent on your registered mobile number which attains your mobile application password. Now, enter it as your mobile application password and proceed to next.
Now, you have to add a secret question and answer to it.
Once you complete the above process then your activation becomes successful and the bank will suggest you change your activation code which was received earlier.
So, if you want to change your activation password then you have to provide the required inputs in the application and tap to proceed.
Once you complete the previous step then you can see a new password for your VMOBILE app. Now, refer to your details and login into your Vijaya bank net banking portal.
Conclusion
So, here we see that we can easily activate Vijaya Bank Net Banking Online. Well, the Vijaya bank internet banking services are comparatively lesser than other banks but if you have an account in Vijaya bank then you can use these services.