There is no surprise that Spice Money is one the leading company in India when it comes to offering financial services. Hence, people all around India are using their network to offer a variety of services to the common users. However, as an agent, to offer different services to the customers, you need to go to the Spice money agent login page.
But in case if you cannot access the Spice money agent login page or not sure how to get started with it. Then I am here to help you out. In this article, I will be talking about how you can get started with Spice money.
So here we go:
What is Spice Money?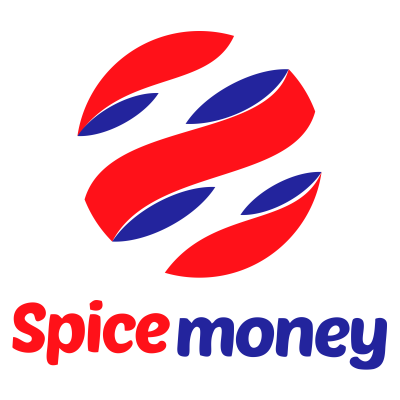 Spice Money is one of the best companies in India that provides a wide range of financial services. It is a leading company in financial services with more than 110,000 strong agent network across all states of India.
Using Spice Money, you will be able to enjoy a variety of services such as Banking, Travel, Electricity & Utility Bills, and Payments.
As a result, with this single portal, only you will be able to make bill payments, book travel tickets, enjoy banking facilities, and so on and help your customers.
Moreover, Spice money is also a highly trustable company. As it has the RBI Licence to operate Wallet services (PPI Licence).
Features Of Spice Money
Easy Merchant Registration: Spice money has an easy merchant registration process. So you can easily become a Spice money agent.
Cash Withdrawal: With Spice Money, you can help your customers to withdraw cash from any bank and account.
Money Transfer (DMT): As a spice money agent, you can use the spice money agent login portal to transfer money to any Indian bank with just a few steps.
Bharat Bill Payment (BBPS): You can also use the portal to fetch and pay the utility bills of your customers. You can make bill payments for services such as Gas, Electricity, Water, Telecom(Mobile/DTH.
Pancard Services: You can also create a new PAN card for your customers online using the Spice money login portal.
How To Register In Spice Money?
Before you can use the spice money agent login portal, you will need to register for spice money. For this, you will need to provide a few details.
Such as:
Basic details.
Aadhar card and photograph.
Once you have these details with you, you have to go to the Spice Money website. On the website, you will find a join us button. Simply click on it to register yourself.
After clicking on the join us button, a new page will open up. Over here, you will need to fill in your information like your name, email ID, mobile number, provide your address, pan card number, and upload your photograph.
Also, you have to select the services you are interested in. Through Spice Money, you can enjoy services such as IRCTC, Retailer, Distributor, Spice Money ATM + Account Service. Also, depending on what services you have chosen, you have to pay according to it only. For example, the basic retailer ID would cost you Rs.1500 only.
Once you have filled the form, click on the submit button. Then you will need to make the registration fee using the available payment options.
Once your registration is completed, you have to wait for 24 hours, and during this time, Spice Money will verify your account and then offer you a spice money ID and password, which you have to use on the access Spice money agent login page.
Spice money agent login: How to access Spice Money Portal?
Once you complete your registration process on the Spice money portal, you will get an ID and password. If you have already got your login details, then do follow the below steps: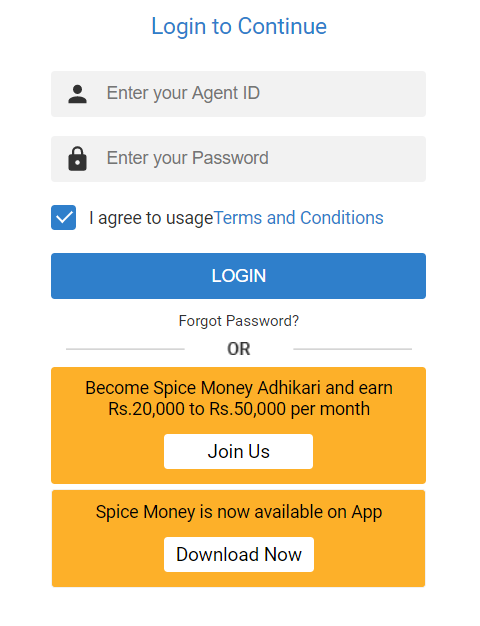 Then you have to enter your Agent ID and enter your password.
Click on the Login button.
After that, you will get an one time password or OTP on your registered button.
Enter the OTP on the Spice Money portal, and you will get successfully logged in.
Final Words:
So that was all for the spice money agent login. I hope this guide would help you to access the Spice money portal and registration process. So go ahead and check the steps out. Also, if you wish to ask any questions, do comment below, and I will help you out.