PNB is one of the well known banks in India. The company does not only offers its customers excellent banking services. It also takes care of its employees by introducing different schemes. One such scheme is the PNB HRMS Parivar.
So in case if you have worked for PNB, then during your tenure, you must have heard about PNB Parivar or the HRMS Package. The company has introduced the HRMS Package for the payroll processing and salary requirements of the bank.
PNB HRMS Parivar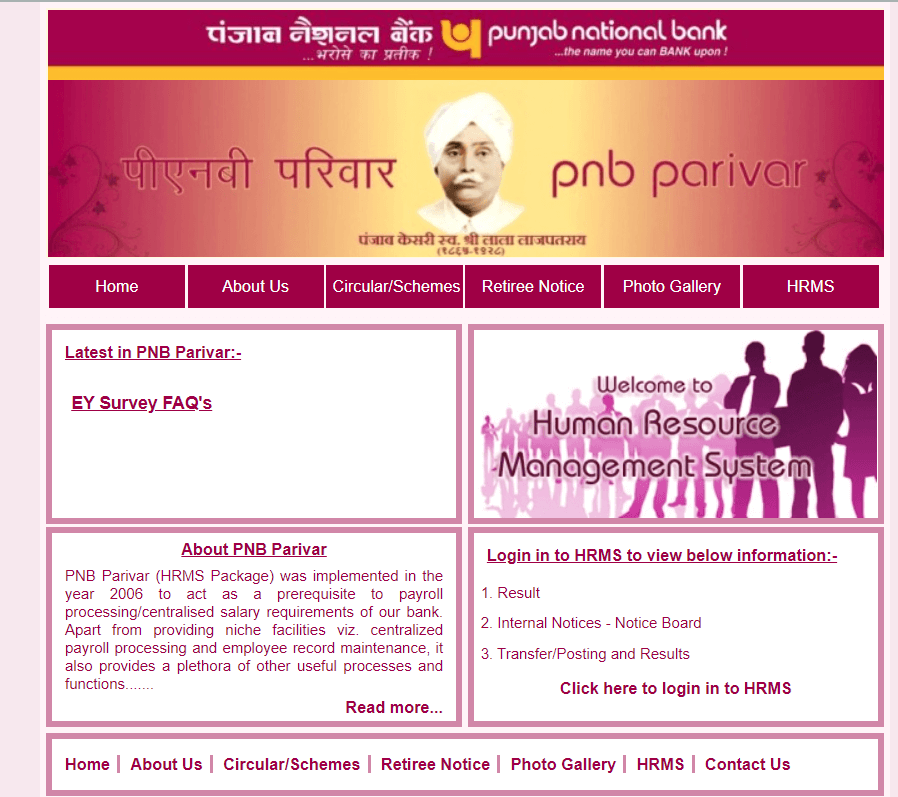 PNB HRMS stands for Punjab National Bank Human Resource Management System. We all are very aware of the fact that how difficult it is for the bank to transfer salaries to its employees and keep all the records of all the working employees. Even back in the days, it used to be a time-consuming job to transfer salaries to the employees.
However, to address this very problem, some banks, including Punjab National Bank decided to launch an HRMS panel to smoothen up the whole process. PNB introduced its PNB Parivar service for its employees.
The service is pretty much the same as internet banking as normal customers enjoy. But PNB Parivar is only available to the employees working under the Punjab National Bank. Also, check out SBI HRMS Portal Login Guide with Mobile App and Online SBI
Features of PNB Parivar HRMS
With PNB Parivar HRMS, the company has introduced a lot of features. Some of the key features of the service are mentioned below:
Attendance Management: With the help of this feature, employees would be able to manage their attendance online.
Performance appraisal: You will get automatically notified if your work gets appreciated or you get promoted by the bank through this system.
HR management information system: The service will allow you to know any information or details from the HR itself. There is no need to ask anyone any kind of information.
Employee Selection: If you are someone who recruits other employees, this option will have all the information for you.
Training Management: If you are a new recruit, then you will get all the training information under this option.
Employee Self Service: PNB HRMS Parivar also features a special section for employees self service. As a result, you will be able to edit your information, update registered phone numbers, and other information.
Leave Management: If you want to take leave, there is no need to talk to your manager to write a leave letter. Instead, you can easily manage all your leaves through the PNB HRMS Parivar only. The process is simple and straightforward.
Promotion Request: If you wish to get a promotion after working for years, then you can request for promotion directly from the panel. Your request will be sent to the higher authorities directly, and you will also get a notification soon whether you are being promoted or not.
Provident Fund: You will also be able to check your provident fund balance status and its history through the PNB HRMS Parivar panel.
Salary Report: The panel can also help you with your salary report.
Previous Salary Statement: You can also download or view your previous salary statement using the PNB HRMS panel.
Also Read: HRMS Odisha: How to Login, Register Mobile Number & More
How to register and activate a PNB Parivar account?
If you have recently joined PNB, then you will need to contact your HR or Bank to get your user ID and password for the PNB Human Resource Management System.
Most of the time, you will get the details without doing anything. But if you don't have them yet, there is no harm in contacting the bank. Once you have your login details with you, you can follow these steps:
At first, visit the official website of Punjab national bank. You can visit the site by going to https://www.pnbnet.net.in/.
From the homepage, click on the "Click here to login into HRMS" option.
Then you will get redirected to the PNB HRMS login page.
Now, you have to enter your user ID and your password.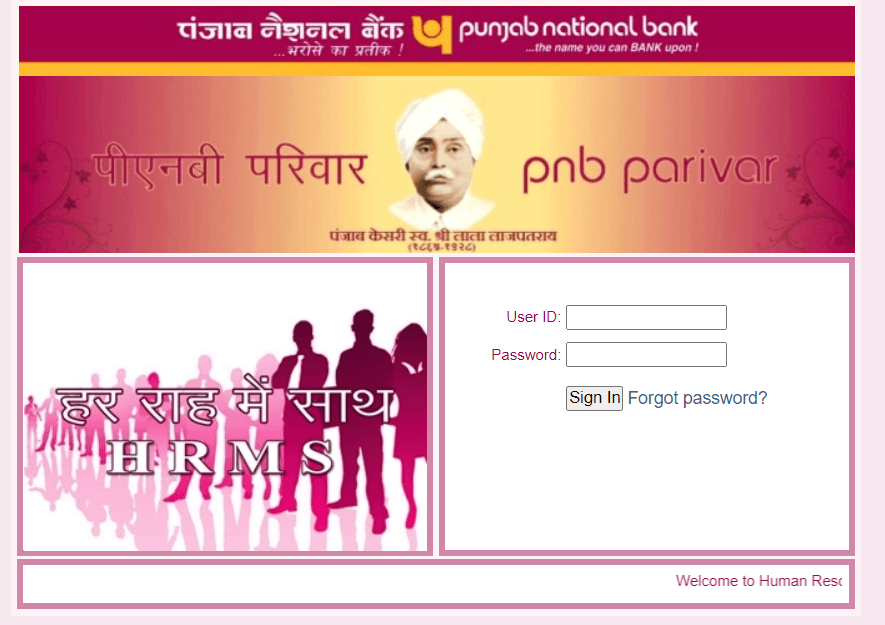 After that, click on the login button.
Within a few seconds, you will get redirected to the PNB HRMS portal.
Apart from this, you can also try out the PNB Parivar app available on Google Play Store. The app will help you to access the portal directly from your phone, and it is pretty easy to get started. Simply download the app from Play Store and sing up using your login details, and you are good to go.
How to Generate PNB HRMS employees salary slip at https://www.pnbnet.net.in/
The steps given below can be followed in order to generate PNB HRMS employee's salary slip at the Punjab National Bank HRMS portal. So, here we go:
At first, you need to visit the PNB web portal page by following www.pnbnet.net.in
Now, enter your USER ID or provident fund number and enter your password. 
Click on the Sign button to enter into the Dashboard.
Check your profile information such as leave, salary increment, salary, internal notices, etc.
Select the need salary slip option from there and you will be moved to the salary slip page where you can access all the required information. 
Now, take a copy and print the information for future reference. 
Final Words:
So that was all for the PNB HRMS Parivar. The portal will help you with a lot of services, and you will get a better experience working with PNB. Now it is your call to go ahead and check the steps out and see how they are working for you. Also, for any questions, do comment below.