Are you a Syndicate bank user who wants to activate syndicate bank net banking? But not sure how to do so? If yes, then read on.
In today's time, activating net banking is extremely important. By activating net banking facility in your Syndicate bank account, you will be able to enjoy many features online only.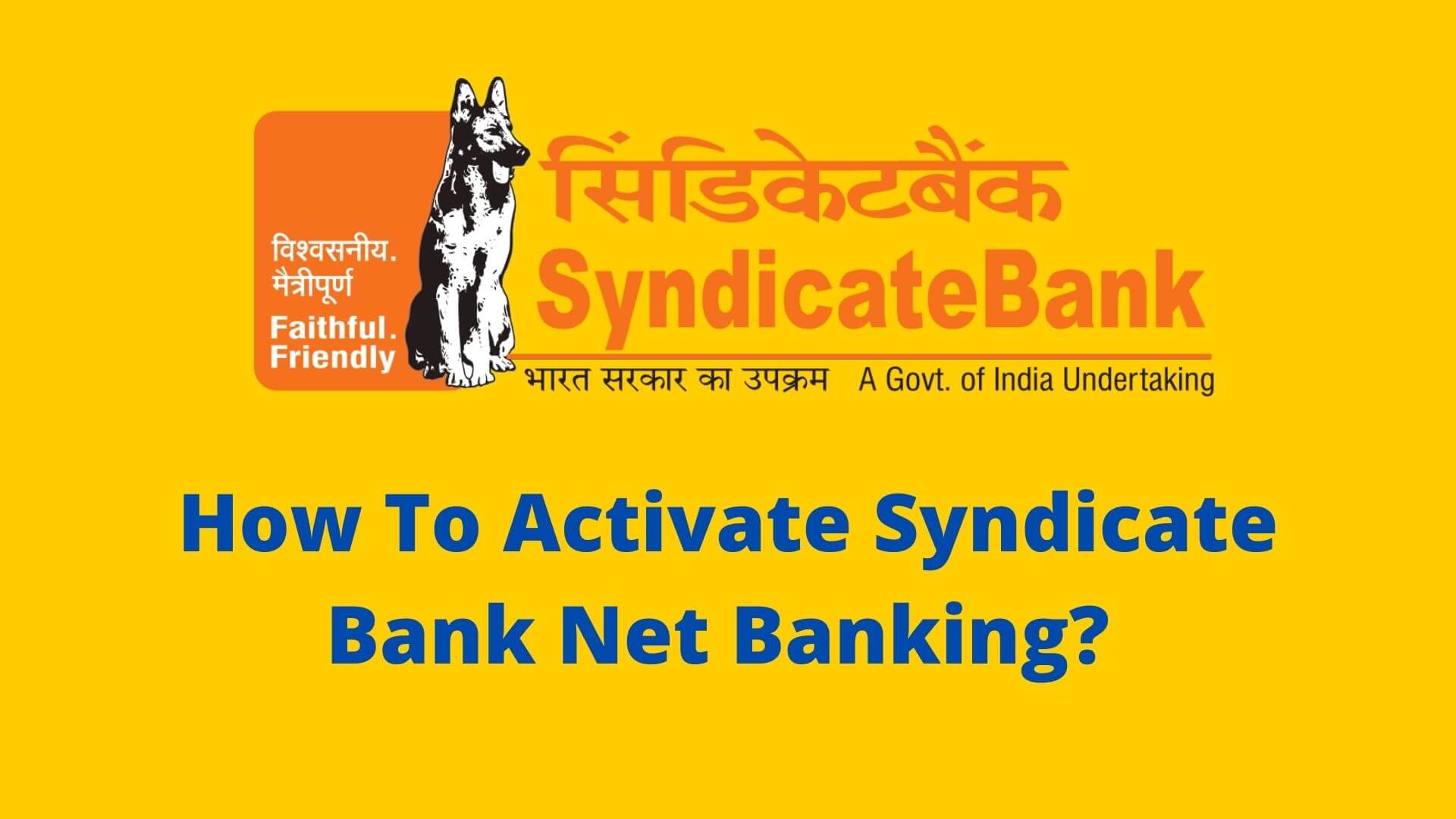 As a result, you don't have to visit your home branch to avail of different services such as checkbook requests, applying for new ATM cards, sending money, and so on.
But if you are new user, then probably you must know about the process to activate syndicate bank net banking.
However, you don't need to worry as I will be explaining all the steps that you have to follow to activate net banking on Syndicate bank account.
So here we go:
How to Register/ Activate Syndicate Bank Net Banking Online
Registering for Syndicate bank net banking service is extremely easy. All you have to do is follow some steps, and you are good to go. The registration process can be completed from both smartphones or from your computer/laptop.
Also, before you go ahead, I would like to recommend you to use the original website of Syndicate bank and stay away from third party links for your own safety.
Anyway, go ahead and follow the below steps to complete the registration process for Syndicate Bank Net Banking:
Step 1: Visit the official website of Syndicate Bank
The first thing you need to do is visit the official Syndicate Bank website to start the registration process. For this, click on this syndicate bank link.
The link will take you to the Syndicate Bank Netbanking login page.
Once you are on the Netbanking login page, you can start the registration process.
Step 2: Read The Terms And Conditions
On the Syndicate Bank Netbanking login page, you will find an option called "New User Registration". So click on it.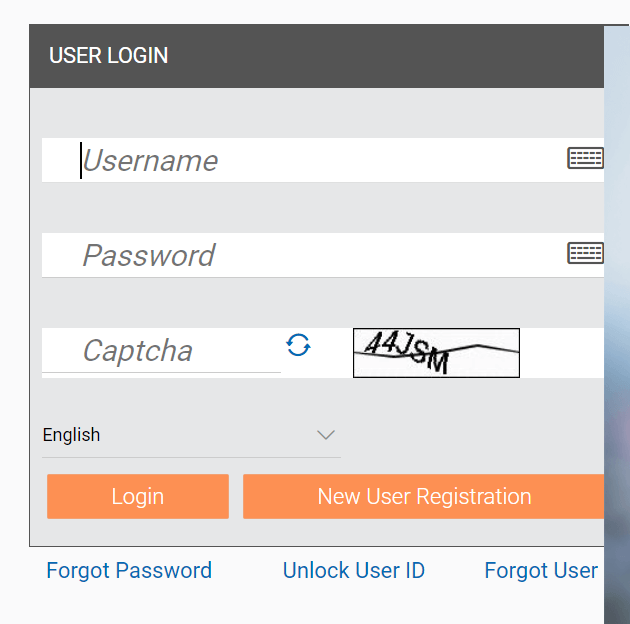 Once you click on the button, a popup will appear requesting you to real all the "Terms and Conditions" of the service. Simply click on the "Accept" button to process further.
In some cases, you may not get to see the terms and conditions page. So if you don't get to see the page, don't worry, simply follow the next step.
Step 3: Enter your Syndicate Bank Account Details
Now you will need to enter your Syndicate bank account number in the first column.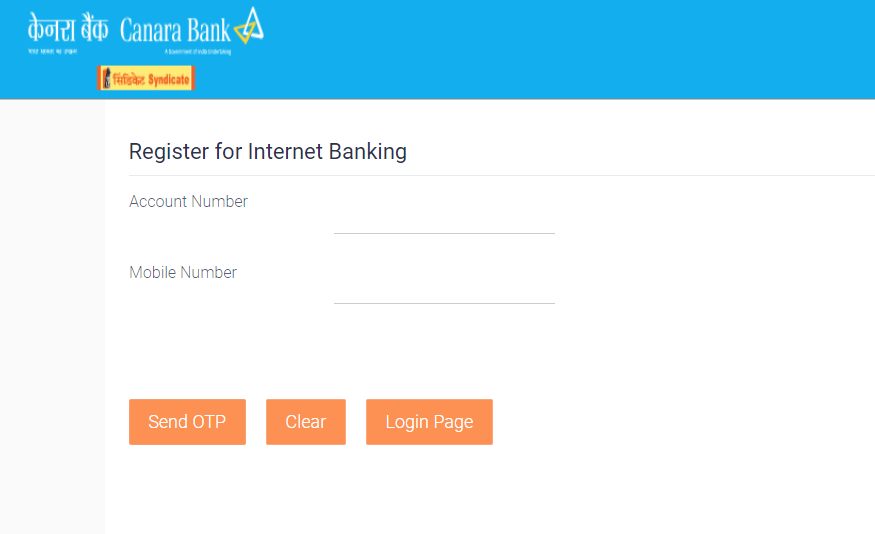 In the second column, you will need to enter your phone number.
After entering both of the details, click on the Validate button to verify the account number.
Once the validation process is completed, click on the next button to move to the next step.
Step 4: Mobile Number Verification Through OTP
Once you click on the Next button, the website will generate a one time password or OTP for you and send it to your Registered Mobile Number.
You have to enter the OTP on the website to complete the mobile number verification.
After entering the OTP code, click on "Submit" to continue the registration process.
Step 5: Enter Your Debit Card Details
Next, you will need to enter your Debit card details. If you don't have a debit card yet, you can enter your customer ID and date of birth.
In case if you have an ATM card, simply enter the 16 digit card number, Expiry Date, ATM PIN code.
After entering all the required details in the respective fields, click on the "Submit" button.
Step 6: Generate Login & Transaction Password
After that, you will be asked to create a login and transaction password. So hit the "Generate Login Password And Transaction Password" option.
Then from the security option, you can either select SMS based OTP or Sync protect 2FA transaction password.
Simply select any of your preferred methods and click on the submit button to proceed further.
Step 7: Login To Net banking Account To Activate
Once you are done completing all the above steps, you will receive an email from Syndicate Bank. The email will contain your login password.
All you have to do is enter the login details to your Netbanking account, and you are good to go.
Simply go to the official Netbanking Page of Syndicate Bank.
Over, here enter your User ID and Login password to log in.
On your first login, it will ask you to set up a new login and transaction password for your Netbanking account.
So follow all the steps and create a strong password, and you are all done.
Final Words:
So that was all for your question about how to activate syndicate bank net banking. Now go ahead and try the steps out by your own and see if they are working for you or not. Also, if there is anything you wish to ask, then do drop a comment below.