If you own an HDFC Bank Credit Card then I'm sure that you want to redeem HDFC credit card rewards points. Well, if yes, then this discussion is for you because here we're going to discuss HDFC Credit card points and ways by which you can easily redeem them. So, if you're a newbie and don't know the ways of redemption of HDFC Credit card reward points then just stick to this article.
What are HDFC Credit Card reward points?
HDFC is one of the most popular and largest banks in India. This bank provides plenty of banking services. Their credit card services are also very beneficial to make a transaction without having a sufficient amount in a bank account. HDFC provides some points on the use of HDFC credit cards. So, whenever a user uses an HDFC credit card then the user will be rewarded with some points.
Users can use these points and get facilitated with some benefits. But to use these reward points, it is very important to redeem these points. There are 2 ways by which users of HDFC Credit cards can easily redeem these points and enjoy the benefits. So, let's discuss the ways of redemption of HDFC credit card points easily.
How to Redeem HDFC Credit Card Reward Points?
To redeem HDFC credit card reward points, there are ways. Users can easily choose the way they prefer. Users can redeem these points via the Netbanking process or post. So, let's discuss the procedure of both the ways respectively.
Via Netbanking
If you want to redeem the HDFC Credit card reward points via the Net Banking process then follow the steps which are listed below:
Firstly, open the official website of HDFC bank and click the login option. Now, put your login credentials into the specified columns and click to log in. If you still don't activate your Net banking account in HDFC then you can take guidance from our dedicated article on the HDFC login process.
Once your Netbanking account of HDFC bank opens then click on the tab "Credit card".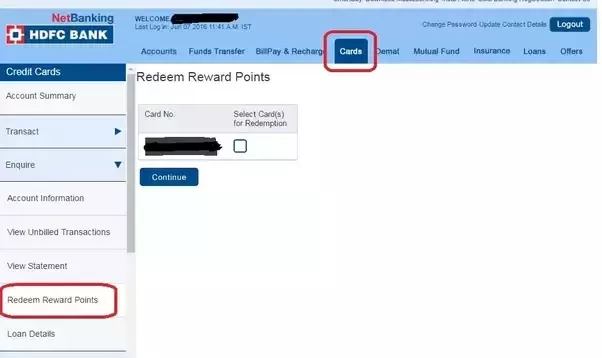 Now, you have to register your credit card into your net banking portal. It is a one-time activity that requires performing the form only once. So, click on Register new card which is placed on the left-hand side of your web page.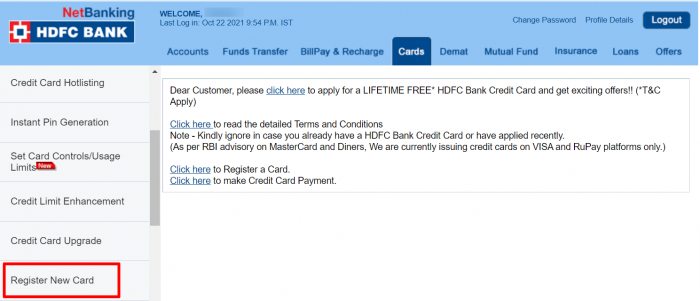 So, provide all the details which are asked by the official portal of HDFC bank. After providing all the details you also have to enter your 4 digit PIN.
Once the registration process is completed then the records of your transactions and your reward posts start appearing on the web page.
Now, we just have to redeem these points. Find and click on the option of the "Redeem Reward Points" link which is displayed on your screen.
It's time to select the point range/item category and select the items for shopping in your cart.
Now, click on the shopping link and view shopping options. Make sure to read the terms and conditions and after that proceed to the next step.
Once you confirm your order then your email ID and address will be displayed on your screen. Now, confirm your email ID and Address and click to redeem.
Note down the redemption order no. which is generated and displayed on your screen.
After completing the above steps, your HDFC credit card redeem points are redeemed and you will be benefited from the services provided by HDFC bank. If you're not comfortable with the process or you don't have a net banking account to execute this process then you can redeem your credit card points via post.
Via Post
This process can be easily completed by following some easy steps.
Firstly visit the official website HDFC bank and download the HDFC Bank credit card rewards points form.
Fill the form carefully and provide all the details which are asked in the forms.
Now, you have to post the redemption form and wait for a reply from the bank.
Once you post the photo of your Credit card points redemption form then the bank will redeem the points and send you the confirmation via post. Also, check out How To Activate Syndicate Bank Net Banking?
Frequently Asked Questions: Redeem HDFC Reward Points
Do HDFC Credit Card Reward Points Expire?
Yes, the HDFC reward points expire after the validity of 2 years. Some premium cards like HDFC Diners Club Credit Card also offer validity of HDFC reward points for 3 years.
Does HDFC Bank charge any redemption fees for reward points?
No, there is no redemption processing fees for reward points by HDFC Bank. The redemption process is completely free of cost.
How long does it take to credit the redeemed voucher?
It may take up to 10 – 15 days to receive the redeemed voucher details on your mobile number once you make the redemption request.
What is the value of 1 HDFC reward point?
It depends on the redemption you choose. The reward value varies based on category redemptions that include flights, hotels, movies and shopping vouchers among others.
When redeeming for a flight ticket through HDFC's website your points are worth Rs 20 per point in economy class tickets or even lower when redeemed for higher classes of travel which is the highest redemption offered by HDFC. The same usually stands true for hotels as well where if you choose to redeem your points on a hotel stay, one point is worth Rs 20 or even lower in some cases.
When choosing other categories like shopping vouchers and movie tickets, however, it's possible to get up to five times its value. Also, the points are worth Rs 20 per point when you redeem them for an online shopping voucher on BigBasket or Flipkart whereas they can be redeemed at other e-commerce websites like Paytm and Snapdeal for up to four times their actual value.
Conclusion
So, here we discussed HDFC credit card redemption points. I'm sure that you'll learn how you can easily redeem your points for HDFC Credit cards by following some easy steps. I prefer you to go with the process of Net banking for a better and quick response. So, just go and redeem your credit card points now.